By Navin Singh Khadka
Growers of world-famous Assam tea are encroaching into forests, fuelling a conflict between elephants and humans, locals and authorities in the Indian state have said.
Officials blame small-scale plantations for most of the encroachment but local leaders told the BBC there was no up-to-date land survey of bigger tea "estates" either.
A major association of tea companies has rejected the accusation, arguing that forest coverage is in its members' interest.
However, a study by the Indian government has found that tea gardens are contributing to Assam's deforestation.
"The decrease in forest cover of the state is mainly due to encroachment in forest land, biotic pressure, rotational felling in tea gardens and shifting cultivation," the environment ministry's State of the Forest report said in 2015.
Loss of life
Official figures show nearly 800 people were killed by wild elephants in Assam between 2006 and 2016.
One person dies every day in India after coming into contact with an elephant or tiger, according to the most recent figures made public by the government last year.
Between 2014 and 2015, casualties related to elephant attacks were the highest in West Bengal state followed by Assam, which recorded 54 deaths in that period.
"I did not even get to say goodbye to my daughter who was rushed to the hospital after being trampled by an elephant," said Mariam Kerketta, a resident of Sessa tea garden village in south Assam.
As she spoke, tears rolled down her cheeks.
Last October, her 26-year-old daughter Bobita Kerketta jumped off a scooter her friend was riding after they were confronted by an elephant in a tea garden one evening.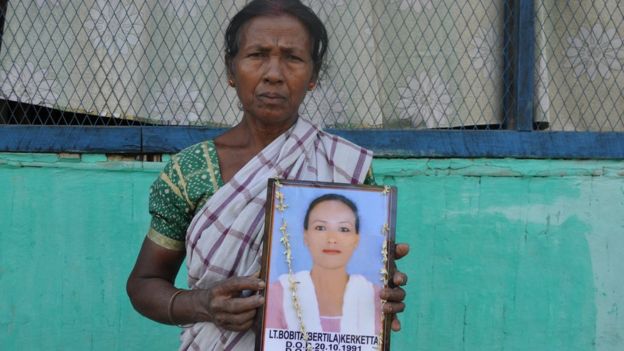 "Her friend managed to ride away from the scene but my daughter could not escape because there were tea garden fences on both the sides of the road," Mrs Kerketta said.
"We have been living in this region for generations but life now has become very dangerous here because of increasing conflicts with elephants, something needs to be done about it."
Elephants at risk
This conflict also results in the death of elephants.
According to India's environment ministry, 72 elephants were killed between 2013 and 2014, with more than 100 killed in 2012.
Figures maintained by conservation organisations show that 225 elephants were killed by poaching, speeding trains, poisoning, electrocution, among other factors, between 2001 and 2014.
India accounts for nearly 60% of Asian elephants.
The highest population is in Karnataka state followed by Assam where they are believed to number more than 5,700.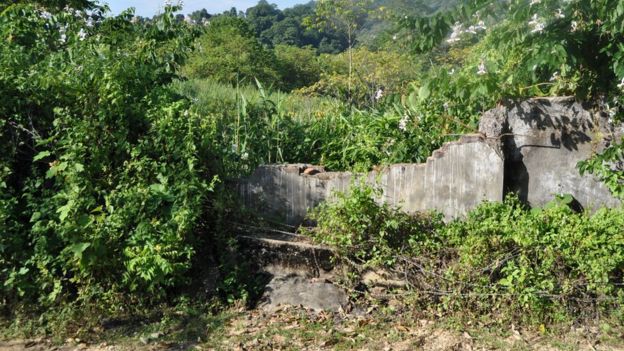 Conservationists say elephants are becoming more aggressive in Assam because their habitats are shrinking and even their traditional natural corridors are being encroached upon.
"Earlier, these areas were forests that were buffers between our reserved forests and villages. They were the sheltering places for elephants," said Manash Sharma, warden of the government's reserved forest in Uralgudi district.
"There was plenty of food and water for the elephants but later because of the increase in population, plantations of tea bushes began in these areas that are not under our control.
"These encroachments have now reached right to the border area with the reserved forests that we (Assam's forest department) control.
"And because elephants don't eat tea leaves, they now enter into villages and we see all these conflicts with humans."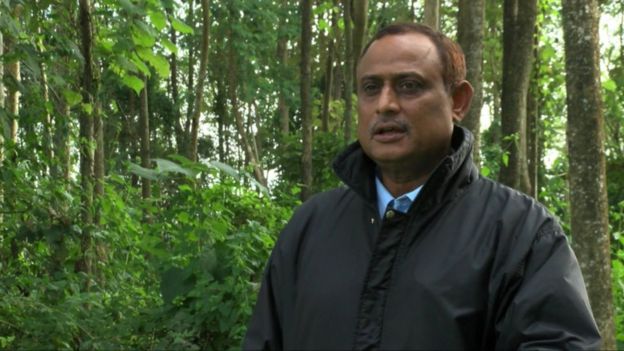 Mr Sharma insisted that only small-scale tea growers were encroaching into such forests.
Officials with the revenue department of Assam who requested anonymity told us land was being recovered from some small growers who were illegally planting tea in forest areas.
Small growers in spotlight
The tea board of India, a government entity, has registered more than 56,000 small tea growers in 23 districts of Assam.
But locals say there are equal numbers of small-scale growers who are not registered with the government.
Many small growers also sell their produce to big tea companies.
People living in tea-growing districts say there are questions for big tea companies as well.
"Why have their lands never been surveyed? Even those that were given the land more than 70 years ago?" asks Dipen Boro, a youth leader in the Bodoland territorial area district of Assam.
"From our observation 30-40% of encroachment is from the (big) company tea gardens and we are pressurising the circle officer and concerned authorities to assess what is the exact position of the tea gardens," he said, adding that he will file a right to information request on the matter.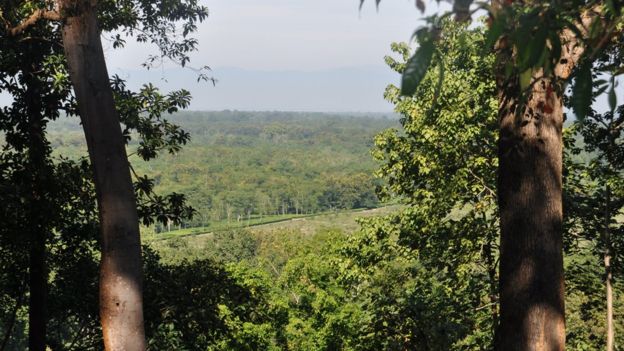 The Indian Tea Association, an organisation representing most big tea firms in Assam, says the accusations are baseless.
"We have not gone into forests to denude forests, cut down trees and plant tea," Sandip Ghosh, secretary of the association, told the BBC.
"If we keep on denuding forests, it is the tea that is going to suffer. So it is in our own interest that we should have adequate green cover."
Mr Ghosh said it was not their responsibility to survey the land.
"We have no jurisdiction on land. We cannot influence the government on surveying or not surveying the land. It is the sole duty of the government to collect the revenue and survey the land."
Whether the government will ever audit all the lands covered by tea gardens remains to be seen.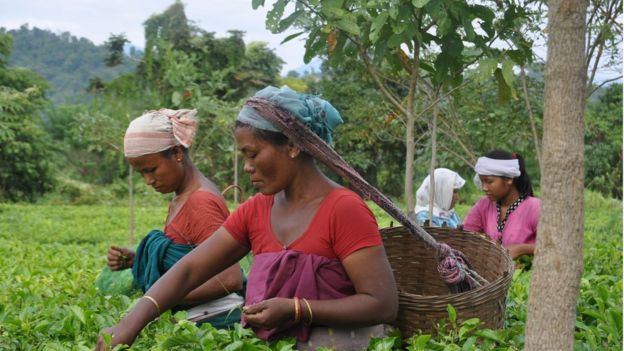 But in the meantime, the conflict between elephants and people in Assam is becoming increasingly serious.
With a rising human population and falling forest coverage, almost everyone in the state is asking whether people and elephants can live together amicably.
Source: BBC News