By Hagar Ravet
Israeli protected agriculture company Top Greenhouses expects the deal to generate more than $10 million in sales over the next three years
Indian multinational corporation Mahindra & Mahindra Ltd., through its subsidiary EPC Industrié Ltd., has signed a deal with Israeli greenhouse technology company Top Greenhouses Ltd. to launch a joint agricultural venture in India, the companies announced earlier this month.
The companies did not disclose the financial terms of the deal, but a filing to the Bombay Stock Exchange on May 15 stated that Mahindra will hold 60% of the new venture, while Top will control the remaining 40%.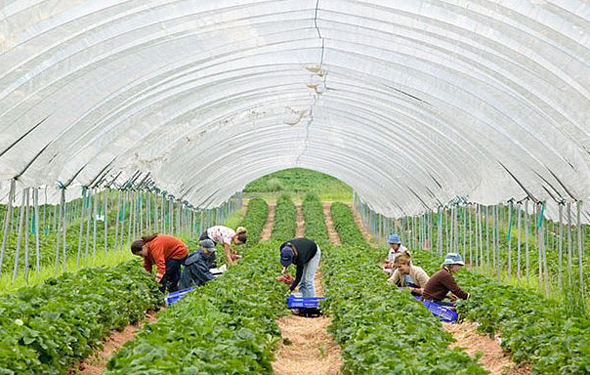 Greenhouse (illustration). Photo: David Wootton/Alamy
Mumbai-headquartered Mahindra is a multinational federation of companies which is valued at $19 billion, according to the company's website. The Mahindra group includes companies operating in the fields of agriculture, IT, auto, financial services, and hospitality, among other areas. Mahindra operates in over 100 countries, employing more than 200,000 people.
Founded in 1998, Top Greenhouses provides a range of smart and environmentally-minded agricultural projects and solutions for growers and retailers, with a focus on greenhouse and protected agriculture solutions. A subsidiary of Elyahu Zalman and Sons Ltd. Group, Top Greenhouses is active in 100 countries worldwide.
Speaking to Calcalist on Thursday, Top Greenhouse's CEO Ami Regev said the deal with Mahindra, two years in the making, is expected to generate more than $10 million in sales over the next three years. "We see it as a major breakthrough into Indian market," Mr. Regev said.
According to Mr. Regev, the two companies will establish a joint company in the field of protected agriculture, enlisting a team of 20. The company will target small farmers, research institutes, and large-scale companies.
Source: CTech