By Adam Withnall
Villagers crushed a tiger to death with a tractor on Sunday and the shooting of a tigress called T-1 has sparked a national controversy
New Delhi: The controversial killing of two "man-eating" tigers in the space of a few days have led experts to warn of the growing human-animal conflict in India.
Villagers in northern India crushed a tiger to death with a tractor on Sunday after it was accused of mauling a farmer. The killing took place inside an Uttar Pradesh wildlife reserve, making it a criminal offence under the Wildlife Protection Act.
And two days earlier, the hunt for a legendary "man-eating" tigress known as T-1 ended in national outcry after she was shot dead by the son of a famous professional tiger hunter.
A minister in Narendra Modi's BJP-led government called the shooting of T-1, who was blamed for the deaths of 13 villagers over a number of years, a "ghastly murder".
T-1 had been tracked by forest officials for two years, identifiable by her stripe patterns. Experts said that repeated failed attempts to capture her alive and move her out of conflict with humans in Maharashtra state had made her wise to their efforts. Matters were also made more difficult by the fact T-1 had two adolescent cubs.
On Friday she was finally cornered by hunters who were privately contracted by the state government after their own experts failed, and darted with a tranquilliser.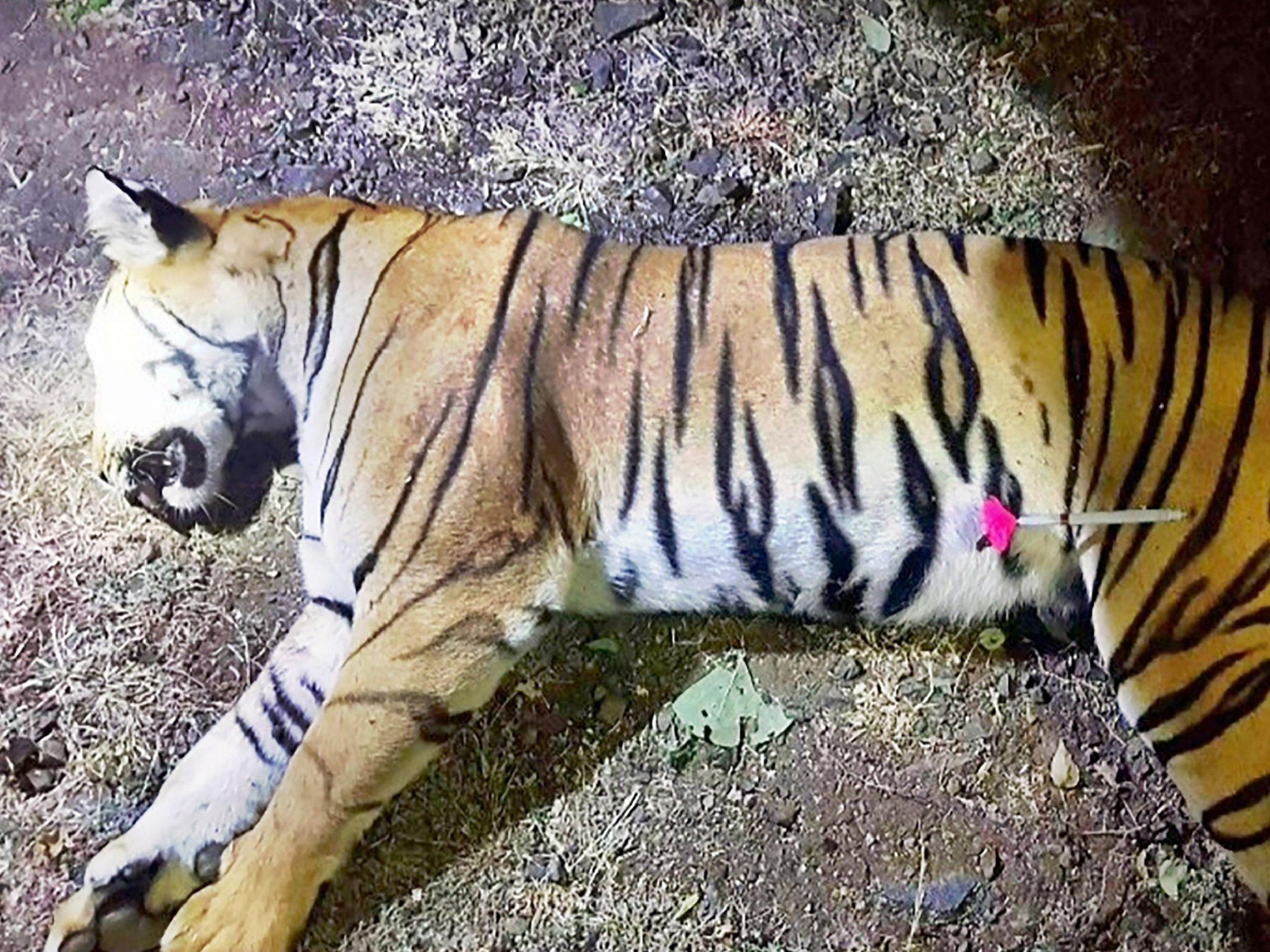 But tranquillisers can be slow to act, and the hunters say T-1 roared and charged at their open Jeep. She was shot in the underbelly with a rifle by Asghar Khan, the hunter's son, and died at the scene.
The federal minister for women and child development, Maneka Gandhi, who is also an animal rights activist, said the killing was "nothing but a straight case of crime". She said she was "shocked" that the Maharashtra forests minister, Sudhir Mugantiwar – a member of her own party – was still in post after ordering it.
And PETA India, the animal rights group, accused the authorities of killing the animal without deploying a veterinarian who might have been able to capture her non-lethally. Legal action is now expected to be taken against officials in the T-1 case.
The two deaths highlight a growing trend where what should be a national success story – India's tiger population rose from 1,800 to 2,226 from 2010-2014 – is clashing with human development of land.
Mr Mugantiwar said the killing of T-1 followed the guidelines of the National Tiger Conservation Authority (NTCA), and a state forestry official said the tiger was likely forced to stray out beyond her reserve because of the encroachment of people.
"Any tiger would not normally venture out so far unless there was a large number of people entering its habitat and making it fearful for its life," said Pingale Bhanudas Narayan, deputy conservator of forests in the Yavatmal division of Maharashtra state.
New data released by the central government suggest that more than 1,608 humans were killed in human-wildlife conflict cases involving tigers, leopards, bears and elephants between 2013 and 2017.
The figures, reported by the Hindustan Times, are from the 23 states that record wildlife-human conflict data, meaning they are likely to be lower than reality.
The boundaries between spaces for human beings and wildlife were blurring "by the day", said Dr Dipankar Ghose, director for species and landscapes at WWF India.
He told The Independent it was therefore unsurprising that instances of human-wildlife conflict were on the rise. While tigers have made the headlines recently and leopard spottings have become a problem on the outskirts of the capital Delhi, he said it was actually elephants that led to the greatest number of fatalities – around 400 every year.
WWF India works with local communities to install physical barriers and early warning systems, as well as using trained elephants to drive wild elephants away from villages, Dr Ghose said.
But the real problem lies in the divide between policies to protect animals and the attitudes of the humans living alongside them. Local media reported scenes of jubilation, with fireworks and feasting, among villagers at the news that T-1 had been killed.
"Given the scale of the conflict, it is important to engage everyone in the assessment, prevention and management of human-wildlife conflict," Dr Ghose said. "WWF India recognises that the wellbeing of these large mammals is intertwined with that of the local communities who live in and around their habitats."
Source: The Independent