By Bethan Staton
The government plans to spray the city with water in an attempt to clear the toxic cloud, which has forced schools to close.
Delhi has declared a public emergency as toxic smog continues to engulf the city, threatening residents with concentrations of dust 12 times the acceptable level.
The government plans to use fire trucks and water cannons, normally used for riot control, to spray water across the city as a last-ditch attempt to clear the thick haze, an environment ministry official revealed.
Residents complained of headaches, coughs and difficulty breathing and have been donning specialised masks to protect against the fumes, which have been caused by construction dust, vehicle emissions and the burning of crops.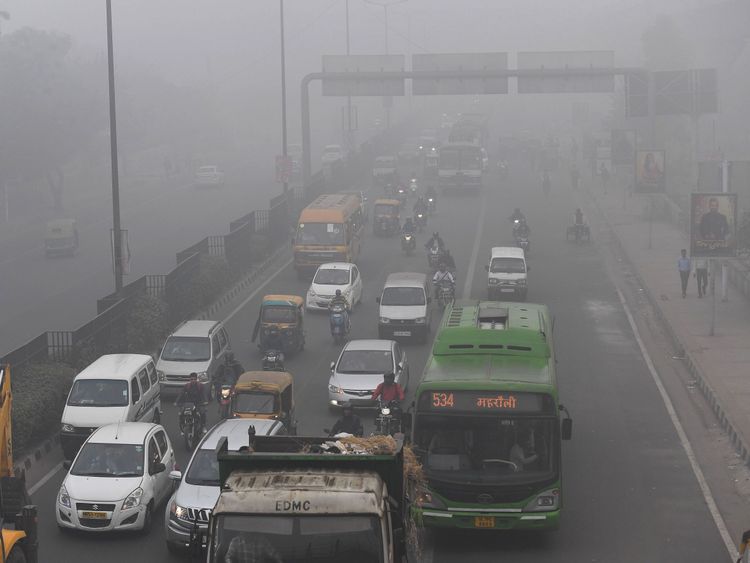 "Over the last five days the haze, smog and smoke spread all over," Shyami Sodhi, a Delhi resident, told Sky News.
"It comes inside the house, even if you close your windows. It's difficult to breathe."
A US Embassy measure placed the level of tiny matter PM 2.5 at 608 on Thursday – compared to a safe limit of 50.
The dust is 30 times finer than human hair and can be breathed into the lungs.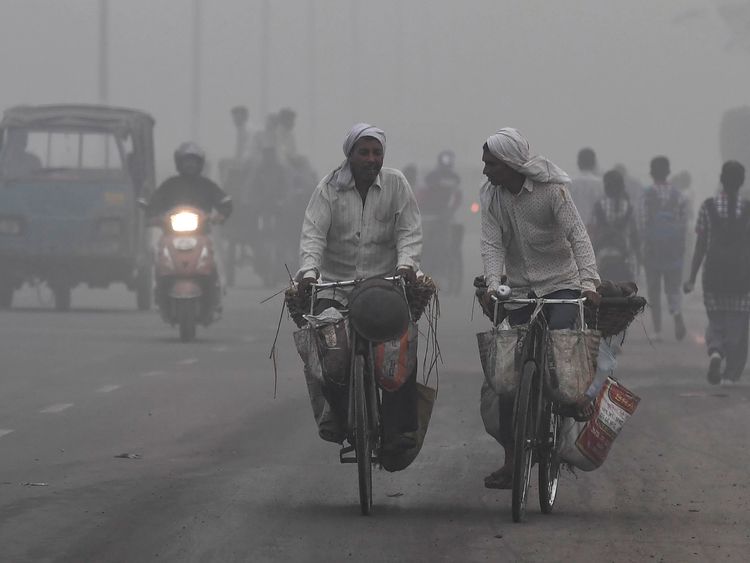 Some 2.5 million Indians were thought to have died early as a result of pollution in 2015, and on Twitter residents spoke up in outrage and even shared tips about moving out of the city, using hashtags like #delhipollution.
In other attempts to stop the smog the city is restricting driving in the centre, allowing only cars with odd or even number plates on alternating days.
Trucks have also been banned from the city, all construction stopped, car parking charges quadrupled and school closed for the week.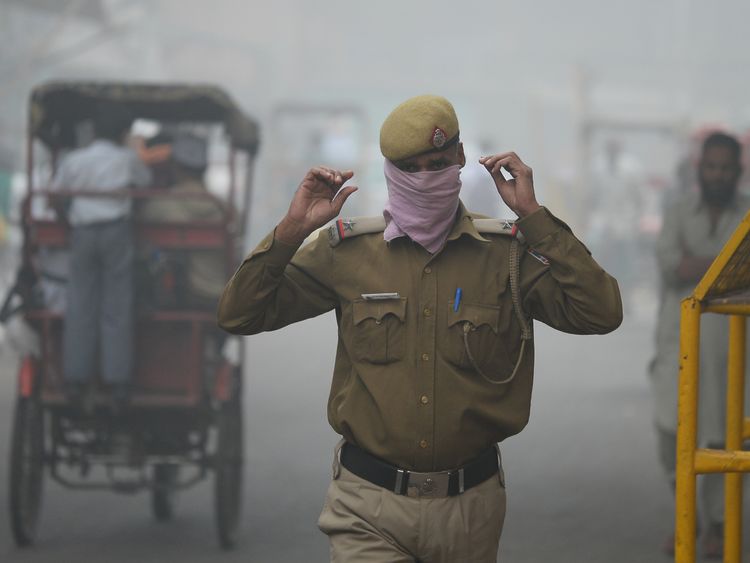 Chief Minister Arvind Kejriwal said the city had become a "gas chamber", and activists and doctors said the homeless and slum dwellers would be most at risk from the worsening crisis.
"Those on the streets are the most vulnerable, as they are not very healthy to begin with," said J.C. Suri, a pulmonary disease specialist at Safdarjung Hospital.
"They are exposed to construction dust, vehicle exhaust on a daily basis, and at this time of year, it gets worse."
The situation has been exacerbated by farmers in the Punjab and Haryana regions burning millions of tonnes of crop waste, a practice authorities say they are powerless to prevent.
According to Ms Sodhi, the acrid smog has become a seasonal recurrence in Delhi.
She believes individuals need to take action to combat pollution, and says the government should work to improve public transport and sustainability in the booming construction sector.
"The last part of the problem is created by us," she said. "The question is where does one find the balance between development and sustainable environment?"
Source: Sky News