New Delhi: Indians grappling with the risk of stroke, heart disease and lung cancer from pollution have to contend with an unlikely adversary: The taxman.
Prime Minister Narendra Modi's rollout of the country's biggest tax overhaul in decades is encouraging the use of petroleum coke, a fuel that spews more emissions than others. That's because it's being taxed at a rate that may be lower for some buyers than the alternative, and much cleaner natural gas.
Petcoke is taxed at 18 percent under the new nationwide system. Natural gas, however, is excluded and subjected instead to local levies that could add as much as 30 percent to its cost.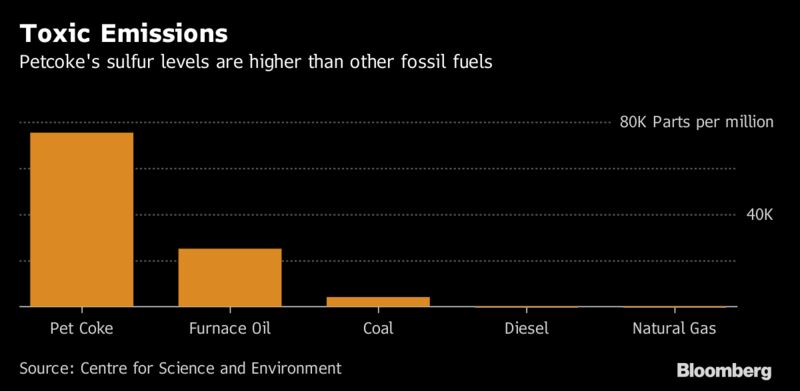 The goods and services tax, or GST, introduced in July is already posing a challenge for Modi, with rising concerns over its impact on small businesses representing almost half the economy. It's also threatening his administration's efforts to curb emissions in a nation that's home to 14 of the 30 most-polluted cities in the world. India has plans to more than double the share of gas in its energy mix to 15 percent.
"The current tax structure is a deterrent for natural gas and encourages the use of dirtier fuels," said Rajeev Sharma, chief executive officer of Adani Gas Ltd., which distributes piped gas in cities including Faridabad, an industrial township bordering the capital, New Delhi. "There is a clear disincentive for industries to use natural gas because of the various taxes it is burdened with."
While Chinese cities are more infamous for skylines marred by smog, pollution in New Delhi skyrocketed earlier this month, with the deadly level of carcinogenic pollutants roughly 10 times the reading in Beijing. As a thick toxic haze enveloped the city, schools shut down, traffic was halted on highways and residents went scurrying to buy air purifiers and filtration masks. Experts called the situation a major public health emergency.
The use of petcoke is prohibited in New Delhi and some of its surrounding areas, and the nation's top court on Wednesday refused to relax the ban. Still, it remains in use in the rest of the country. While China has limited the use of the fuel, its consumption in India nearly doubled to 23.3 million tons in the year ended March from 2014, when oil prices crashed.
"The Supreme Court's ban on the use of petcoke in the national capital region holds a lot of promise. But it has to be aided by able implementation," Sunil Dahiya, a campaigner at Greenpeace India said.
Petcoke has about 65,000-75,000 parts per million of sulfur, while coal has about 4,000 ppm and natural gas has zero sulfur emissions, according to a Nov. 9 report from the Environment Pollution (Prevention & Control) Authority for the National Capital Region, which includes Delhi and its surrounding suburbs.
Under the new Indian tax system that aims to create a common market in the country of 1.3 billion people, petcoke users can claim tax credits on its use. The exclusion of natural gas means its users can't. Coal is taxed at five percent under GST, with an additional environmental levy of 400 rupees a ton.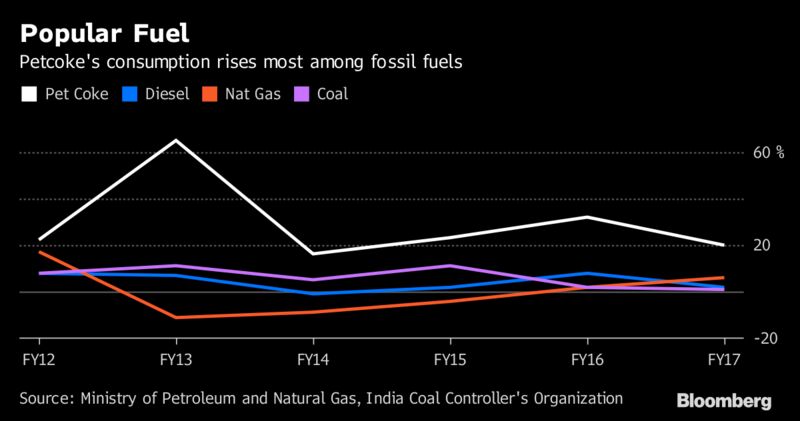 "The tax anomaly distorts natural gas prices," by adding as much as $2 to a price of about $7 per million British thermal unit, according to Debasish Mishra, a partner at Deloitte Touche Tohmatsu LLP in Mumbai. "The government does realize it's a problem and I expect natural gas to be included in GST quite soon. It's not going to be a difficult decision, as the states don't rely on it for revenues as much as they do for some other products."
The price of petcoke and coal, excluding taxes and freight, was about a third of natural gas in the northern state of Uttar Pradesh when measured by their gross heating value, according to Bloomberg calculations based on data from Indraprastha Gas Ltd., a natural gas distributor.
"Natural gas needs a big push in the fight against pollution," according to K. Ravichandran, senior vice-president at credit assessor ICRA Ltd., the local unit of Moody's Investors Service. "Bringing gas under GST can narrow the price distortions and encourage industries to opt for the cleaner fuel."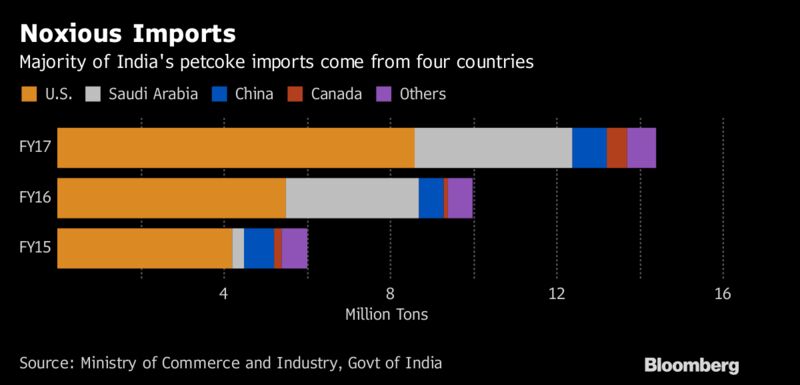 Finance Ministry spokesman D.S. Malik didn't respond to two calls to his mobile phone, while oil ministry spokesman Alok Deshwal and environment ministry spokesman Himank Kothiyal couldn't immediately comment.
India met about 62 percent of its petcoke demand during the year to March 31 through imports from countries such as the U.S., Saudi Arabia and China. Most Indian refiners including Reliance Industries Ltd. and Indian Oil Corp. produce the fuel, a byproduct of refining crude oil.
"The dirtiest fuel — pet coke — is going to get a tax benefit in India, whereas gas will not," according to Chandra Bhushan, deputy director general at the Centre for Science and Environment in New Delhi. "Petcoke has the highest sulfur content. It's easy to access, it's cheaper, and we're importing it from both China and the U.S."
— With assistance by Sarah Chen
Source: Bloomberg